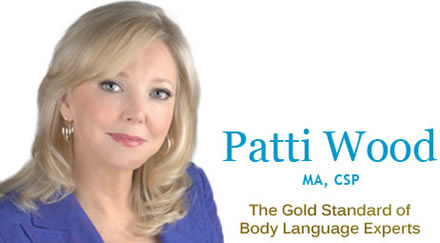 Speaker, Trainer, Spokesperson, & Media Authority
Well known in the media from her TV, magazine, newspaper and online publications interviews, body language expert Patti Wood is a CSP (Certified Speaking Professional) and a member of NSA, The National Speakers Association.
"Patti Wood is the Babe Ruth of body language experts, the gold standard of body language experts, the capo di tutti capi of body language experts." -Washington Post

Watch the video and take the body language knowledge quiz Answers to Quiz
Patti Wood, CSP, holds a B.A. and MA in body language and is a high energy, interactive, professional speaker, trainer and media expert. She has been on hundreds of TV shows and has been quoted in more than seven hundred publications. She is also the author of seven books on communication. If you are looking for a smart savvy body language expert, and experienced speaker, email her today at patti@Pattiwood.net or Click here to book Patti Now!
See How Patti will get your group Energized
Sleep Positions - What they reveal about your relationship
Answers to First Impressions Quiz on YouTube
Patti Wood is on the History Channel special entitled,
"The Secrets of Body Language"
She is one of the leading experts in Nonverbal Communication in the world who were interviewed about how to read body language and paralanguage (voice.) Be sure to catch the next airing of the History Channel body language special.
"The signals are loud and clear when it comes to delivering body talk. Patti Wood is the consummate communicator - mastering the verbal and non-verbal..."
Joanne, Toronto Sun Media
Patti Wood discusses the body language of JonBenet's parents with Aphrodite Jones on this segment
If you would like to contact Patti about speaking or coaching contact her today! Patti@PattiWood.net
Check Patti's blog for more insights on the Presidential Candidates!
FREE Body Language Teleclass...Reading your Clients Body Language Teleclass
Tune into this special call! Whether you are an entrepreneurs, solopreneurs, small business owners, sales professionals, corporate executives, student or consumer! You must have these key tips discussed in Patti's ongoing teleseries! Grab your spot to learn how to use body language for YOU!
Register Now for the 07/28/2009 Teleclass at 12:30 PM EST
Can't make it - no worries! We will be sending the recording to all registeredÂ
48 hours after the call.
REGISTER NOW...
The Body Language Expert...
Patti Wood was credited in the New York Times with bringing "body language to the national consciousness" and dubbed by the media and law enforcement as the "Body Language Lady"and the "Deception Detective." As a Keynote Speaker, Trainer & Coach Patti uses her humor, 25 years of nonverbal communication and awesome business savvy to wow your audiences of 500 or 5000!
Learn why Patti is a Body Language Expert
Connect with Patti on LinkedIn!
"Wow! Superb! Outstanding! Patti never fails to deliver an outstanding program!"
AAOHN
"She knows her stuff & she knows how to teach it! I want to be like her!"
St Jude Hospital
"Patti is the most dynamic, high-energy presenter I've ever seen. Excellent..."
GenCorp
"Patti was SO authentic, energetic & inspiring"
Quadramed